Lectro Truck LTA6512E
Lectro-Truck is a battery powered, stair climbing hand truck. Made of steel or a high-grade aluminum alloy, the Lectro-Truck boasts capacities from 600-1500 pounds. With six different models from which to choose - and a host of accessories to customize your stair climber - we are positive that we can find a solution to meet your moving needs. Lectro-trucks are perfect for the following industries: commercial plumbing, commercial HVA/C, Vending, Safe Moving, Schools, Elevator Motors, and more.
We are an Authorized Lectro Truck Dealer.
Model #LTA6512E Specifications
Capacity: 1500 pounds
Material: Aluminum
Height: 68"
Toeplate Size: 24"x 6" -or- 30"x 6"
Lift Height: 41"
Leverage/ Hook Bar: Standard
Tripod: Built-In
Extension Handle: Standard
Strap Bar: 2 Adjustable
Battery: Detachable Pack

Additional Features:
1½ Hp Motor
¾" Aircraft Hardened Srive Screw
Large Anti-Skid Footpads
Overload Circuit Breaker System
All-Weather marine Control Switches
Grommeted & Loomed Wiring Harness
8"x 2" Roller-Bearing, Non-Marring Wheels
Automatic Electromagnetic Braking System
One Year Warranty on Equipment
Two Year Warranty on Motor
Weight: approximately 170 lbs
Shipping Terms:
Item ships via truck freight direct from factory. Price includes shipping to 48 contiguous states. This item is not available to ship elsewhere. Once payment has been received your Lectro-Truck will ship within 10-12 business days. Please do not hesitate to call or email with any questions about usage or which model may be right for you. We have been using Lectro-Trucks ourselves for over 30 years. We ship direct from the factory because your warranty starts from the date of shipment. We want to be sure that everybody receives as much warranty as possible. You must provide phone # and be available to receive and inspect.
When ordering please specify the following:
Are we shipping to a commercial or residential shipping address?

Phone number for delivery setup.

Toe plate size requested if there is an option.
The following accessories are also available for purchase on our website:
Accessories:
All Terrain Wheels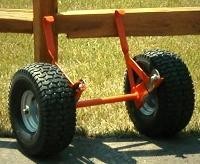 Wheel Brake Kit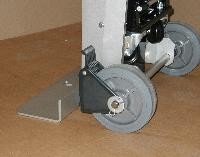 Concave Strap Bar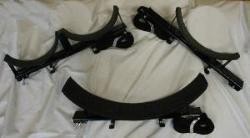 Hook Box