Product Description
Tamper Proof Key Ring Permanent Security Keyring
Patented Tamper-Proof Key Ring® technology provides you with the ultimate in strength and durability. These high security stainless steel rings cannot be opened without detection thus preventing asset removal or substitution. As a one time use security device our rings verify that items taken from a safe match the items returned. Tamper-Proof Key Rings® come in five different sizes of solid or flexible style and are used to secure assets from keys and utility knives to medical equipment and cash tills.
The crimping tool is required to crimp and secure the rings.
The closing tool is required to safely and neatly close the solid rings.
The crimping tool can be found here and the closing tool here.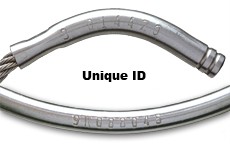 Unique ID
No two key rings are alike and are uniquely identified by a permanent serial number. Each ring is engraved before distribution to allow for detection in the event it is tampered with or replaced.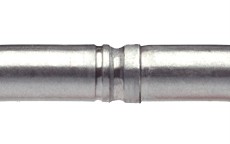 Smooth Seal
Our crimping tool closes both solid and flexible rings with a smooth seal. This allows for a 360 degree use of each ring without the hindrance of a raised seal. Solid rings also require the use of a closing tool. (crimping tool and closing tool are sold separately and are not included with key ring orders.)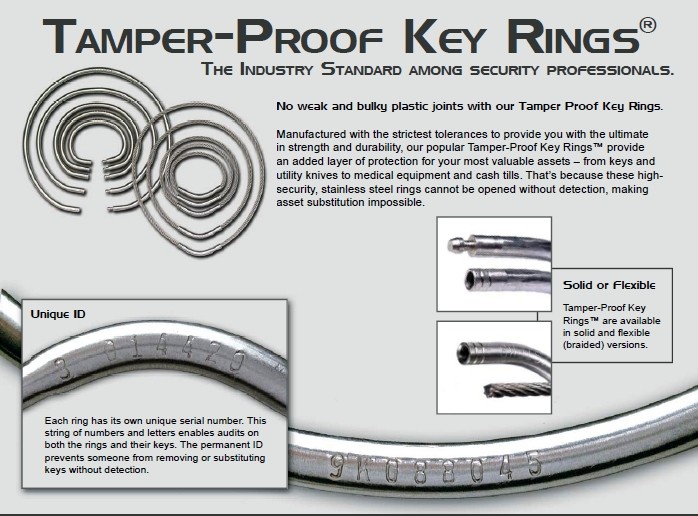 Flexible Rings
Material -- Stranded Steel Ring Thickness -- 2.6mm cable, 4mm seal

Sizes Available:
1" (3cm) Diameter, 14 Key Capacity
1⅝" (4cm) Diameter, 22 Key Capacity
2" (5cm) Diameter, 30 Key Capacity
3" (7cm) Diameter, 46 Key Capacity
4" (9cm) Diameter, 66 Key Capacity
Solid Rings
Material -- Stainless Steel Ring Thickness -- 4mm

Sizes Available:
1" (3cm) Diameter, 14 Key Capacity
1⅝" (4cm) Diameter, 22 Key Capacity
2" (5cm) Diameter, 30 Key Capacity
3" (7cm) Diameter, 46 Key Capacity
4" (9cm) Diameter, 66 Key Capacity
Product Videos
Custom Field
Product Reviews